Add Transform Variables
From the Transform Form, when the Add Transform Variables Tab is selected the following will be displayed. From this Tab, a variable can be created or modified using the Transform Equation.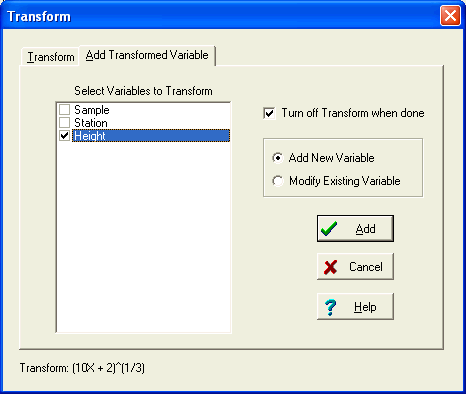 Transform Equation
The Transform Equation will be displayed here.
Add/Modify Button When this button is clicked the computed variable will be added to the data editor. If the "Modify Existing Variable" option is selected, the existing variables will be modified instead of adding a new variable.
Cancel Button
Click this button to cancel any changes made to the Transform configuration and exit.
Transform Help
Click this button to select help.
Data Variables
The file variables will be displayed here. Check those variables to be transformed.
Transform Tab
This tab allows entry of the Transform equation. This will activate the transforms during any reading of the data. To add a new variable select the Add Transform Variables Tab.
Turn Off When Done Checkbox
Select this box to discontinue transform in analysis after Transformed Variables have been added.
Add/Modify Selection
A variable can be computed and added to the Data Editor, or an existing variable can be modified using this selection.